Link to Slum-TV ( * )
Link to Lecture ( * )
Link to Report on Slum-TV ( * )

UBERMORGEN.COM bio ( pdf )
Press Folder English 10MB ( pdf / html )
Contact ( * )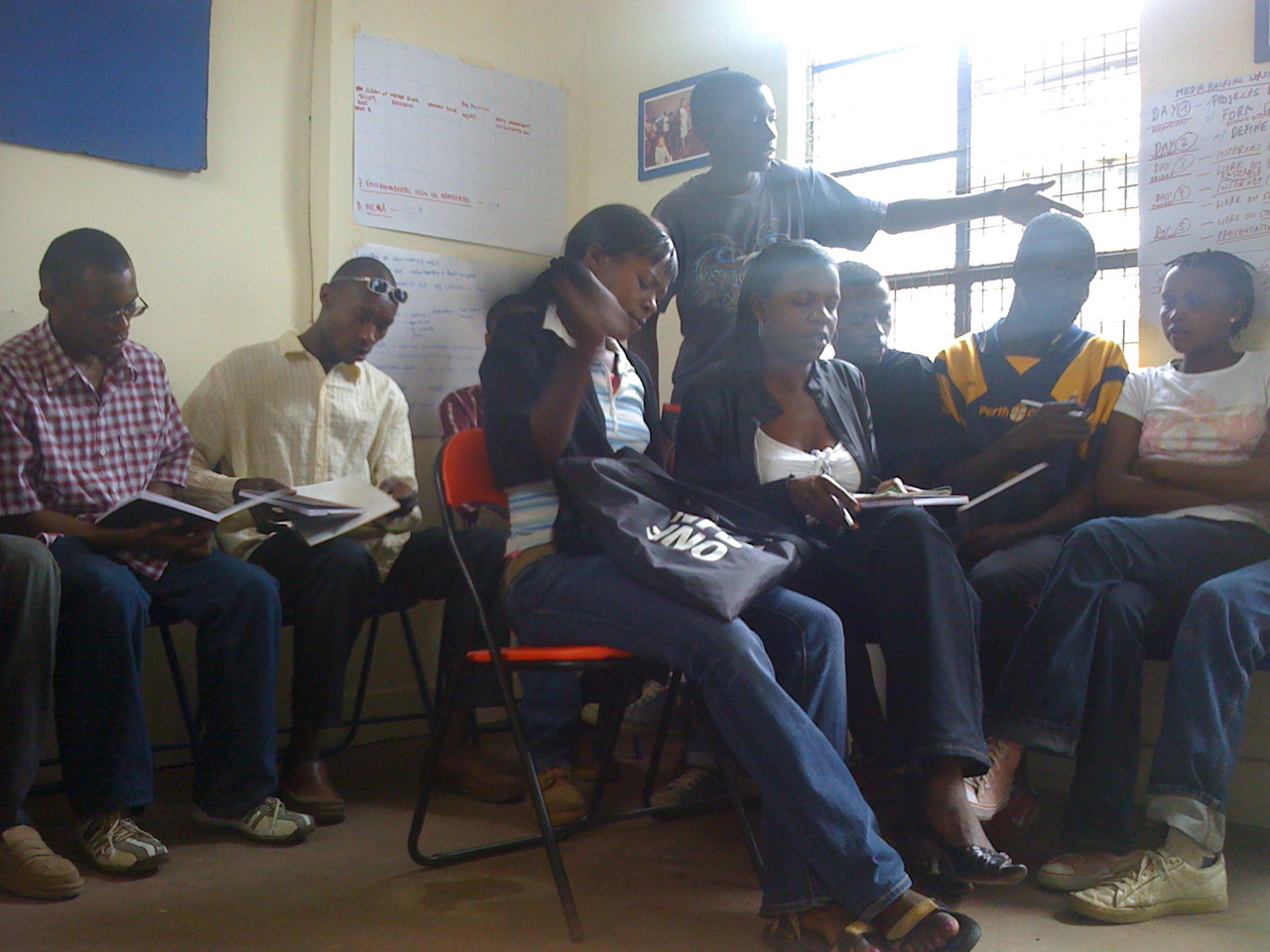 Workshop at Slum-TV office Nairobi (Eastleigh), 3-8. September 2008
"Media Hacking" Workshop for Slum-TV
Report by Hans Bernhard (UBERMORGEN.COM)
Nairobi Kenya, 3-8. September 2008


We started off with the workshop that was held in Eastleigh (just next to the Mathare Slum in the Eastlands of Nairobi), in the brand new offices of Slum-TV (very nice indeed!). The 2 hour kick-off session (we started 2.5 hours late due to various health and tech issues) included feature projects by UBERMORGEN.COM, including blockbusters such as "Vote-Auction" (http://www.vote-auction.net) and the "EKMRZ-Trilogy" (http://www.ubermorgen.com/EKMRZ_Trilogy).
After a while, the Slum-TV members were shaking of laughter and we seriously had a very good time. For lunch we went to a wonderful place around the corner - where we subsequently had lunch every workday after. I got some ugali and fish or stew, beans and cabbage and bread, simply great food, accompanied by a coke or a local form of soft drink - the "fresh" mango juice in glas bottles.
In the afternoon we continued to look at some more UM.COM projects. Then i asked the Slum-TV members to write down the most important topics of their lives. Things they care most about - in their hearts - not social, economical or political content but their own - their love, or the wish for a career or something like that would be very valid. After that we noted everything on large pieces of paper on the wall, so everyone could track the process; and discussed every topic. We tried to match topics so we could make groups of 2-3 Slum-TV journalists. Finally we grouped; and it became very clear that there is a lot of "social realism", leading topics were "social injustice", "police violence" and "violence against women". That was an O.K. starting point, but it was clear that we all would have to strip these issues in order to come to the core of Media Hacking...
Now these were all "CONCEPTS", but what i wanted was to get good stories to feed into the mass media (that was the theme of the workshop: Media Hacking - the intrusion into mass media with lo-tech such as sms, email, web, mobile phones & a simple but crisp story). So we had to start working and transforming these concepts into stories. We worked in small steps, always swarming out in workgroups for 30-40 minutes, then come together again and discuss every project and its current development. Then we would define new objectives or give new input (ideas, spins..) to the individual projects and have another workgroup session for 30-40 min... On the second day I assigned individual research for each group and they spent their time either in an internet cafe or out in the slum talking, shooting pictures or just investigating by walking trough.
At each start of a session I would kick-off with another UBERMORGEN.COM project... we talked about NAZI~LINE project, Alanohof.com, WAHLGELD.COM, the Generator-Trilogy and Psych|OS. I introduced the Slum-TV members to concepts such as Dialectics, Affirmation and Sampling.. by doing this I wanted to show how abstract concepts can be used as "tricks" to generate "alternative ideas" without (ab)using illegal substances; not strictly follow the path of realism (NOT negating facts, but telling stories in a different way, changing view-points, mixing timelines and meanings) but to bring some virtual LSD into journalistic research and production. That was the core goal of the workshop and it worked, you have to work it to make it work..
It was hard work, with very intense support from Alex Nikolic and Sam Hopkins i had to refocus the participants to the story and then to the medium in which the story should be told (so i.e. a press-release, a web-site, a comic, a poster...). But the constant "battle" against "social realism" and pragmatism in the heads and hearts of the participants was finally won and the stories got hilarous, funny, sad, strange, exaggerated, sick and all in all extremely good! Very satisfying!
Monday, the last day of the WORKSHP, we worked hard on the presentation of each story. We decided that the top 3 stories (voted by all participants) would be featured at the UBERMORGEN.COM talk at Goethe-Institut in Nairobi in the evening (each project and it's proponents got 5 min. talking time). Upfront Slum-TV initiators Sam Hopkins and Alex Nikolic talked about Slum-TV and introduced UBERMORGEN.COM to the packed house (Thanks to the Goethe-Crew!).
This would be the place to introduce all participants, their stories and their concepts, but i decided not to publish the materials due to safety reasons. The paper-concepts and stories were so overdone that they could pose danger to the authors. I advised the participants to not publish them carelessly.
Now I have to thank the Slum-TV crew for welcoming me so warmly and working with me over these 4 days. I loved it and I learned a lot about your lifes, about nairobi and the mathare slum! Thanks also to Alex and Sam (and Lukas), thanks to the Hopkins family and last but not least thanks to the Goethe-Institut Nairobi and to the Embassies of Austria and Switzerland in Nairobi. The workshop was financially supported by "Schweizerische Eidgenossenschaft - Eidgenössisches Department des Inneren EDI - Bundesamt für Kultur - BAK".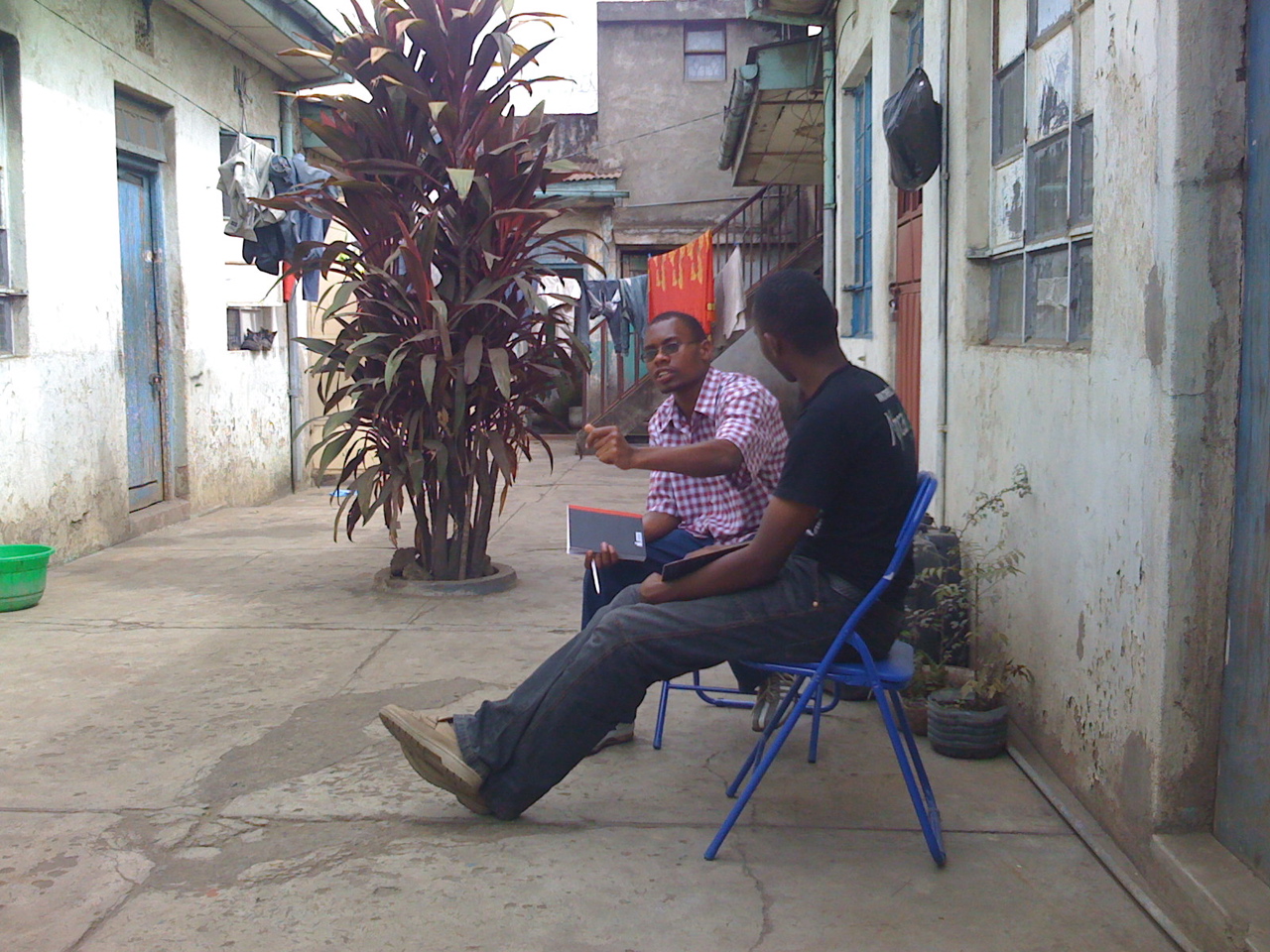 Workshop at Slum-TV office Nairobi (Eastleigh), 3-8. September 2008